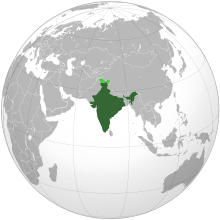 Parcels to India
Sending a parcel to India is easy. While the journey is a long distance from the UK, the price for parcel delivery can still be cheap regardless.
We compare prices from the major couriers to ensure our prices are always amongst the cheapest available to find online.
The amount of parcels we send every month means we get discounts from the major parcel delivery companies too - a discount which we then pass onto you. So we think you'll struggle to find a cheaper price for sending a parcel to India. Certainly we do our best to ensure that our prices are as low as they can be.
Example Prices
Up to 1kg: £30.83
Up to 5kg: £44.54
Up to 10kg: £66.60
Up to 20kg: £102.46
Up to 50kg: £196.11
From documents to super size heavy parcels weighing well into double figures of kilograms, we've delivered parcels of every size, weight and shape before.
If you book before noon, your parcel will be collected today!
Get a quote and make your order with our Quick Quote menu simply at the top of this page.