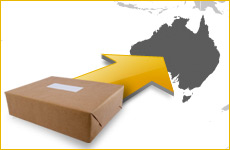 We deliver thousands of parcels to Australia, currently for as little as £32.68, and typically as quickly as just 2-5 days from collection to delivery.
Australian deliveries in fact are one area where we get most praise from customers, for speed of delivery especially. Despite the distance, we can see impressive turnarounds, with it being known for parcels to be delivered just two days after having been collected from the UK.
Example Prices

Up to 1kg: £32.68
Up to 5kg: £48.92
Up to 10kg: £68.64
Up to 25kg: £96.48
Up to 50kg: £205.72

When sending a parcel to Australia, you need to be especially aware of the customs and import regulations, as the country is especially tough when it comes to its own import laws. If you're not sure if your parcel will be acceptable for sending to Australia, then its best to check with their Customs Service first.
For the majority of parcels however, you'll be fine to just send away without a problem. Just get a quote by using our big purple 'Quick Quote' menu - located right at the top of this page!